What do you get when you go to a drive through location to drop off food instead of picking it up? A drive through - food drive!
YOU showed up with your generous donations and made this a HUGE success!
During the last eleven months we have witnessed the birth of some exceptionally innovative concepts, one of which is the drive through - food drive. It may have even been born here in Bethel Township, Ohio. It was the brainchild of a Bethel community member whose heart was simultaneously broken and filled with ambition when they saw the empty shelves inside the Bethel Hope Food Pantry.
Bethel Hope is a non-profit organization that offers assistance to families in need. As the pandemic has unfolded the food on the shelves of Bethel Hope has been going out as fast, maybe even faster, than it has been coming in.
Bethel Local Schools have typically been the main source of the non-perishables that line the shelves for Bethel Township/Miami County families in need. BLS has put forth a valiant effort to help our students live as "normal" as possible while carefully considering safety first and following social guidelines. Following these guidelines means extra precautions have been necessary and many of our traditions had to adapt to the current challenges. The result was various traditions being done in a totally different way. Events that would normally host the district's food drives were done virtually, canceled or limited to very few in attendance- which limits the amount of donations for the district to donate to Bethel Hope.
---
"When I was a boy and I would see scary things in the news, my mother would say to me, "Look for the helpers. You will always find people who are helping."
― Fred Rogers
---
The Bethel Hope Food Pantry has been one of those "helpers" for our community. Even helpers need help. As fate would have it, one Bethel community member (who requested to remain anonymous) found themselves inside Bethel Hope and upon noticing the empty shelves that were once full of food and hope, felt moved to take immediate action. And the drive through food drive was born.
In true #BethelLegacy fashion, the individual visiting Bethel Hope took both note and action of the need and simply "linked the food drive idea to the school and community."
The "link" was the key, unlocking the power of community.
Once the link was made, administrators and staff members began to work together to help bring this vision to pass. Bethel Local Schools posted details of the event on all of the district wide social media platforms and each building shared the details on their Instagram accounts.
There was participation from all of the buildings, various depts. as well as many staff, students and families. Mr. Zigler and the Middle School staff created a friendly competition to see which homeroom class could bring in the most donations. Mr. Swope, along with student, staff and community volunteers loaded a bus full of goods (many of which were from Bethel MS) and transported them to Bethel Hope. There the boys scouts were actively unloading groceries from the vehicles that brought their donations directly to the site.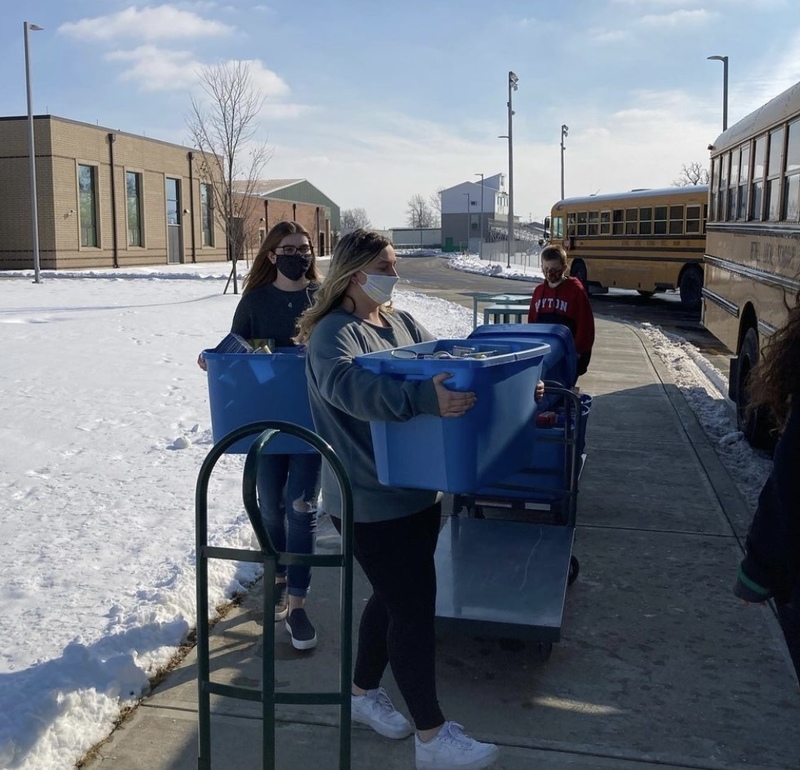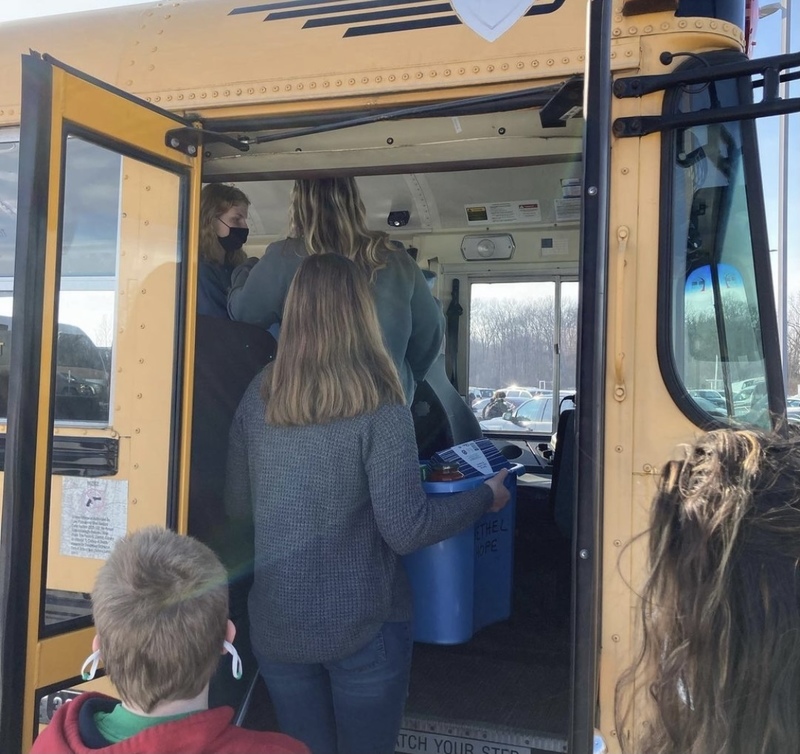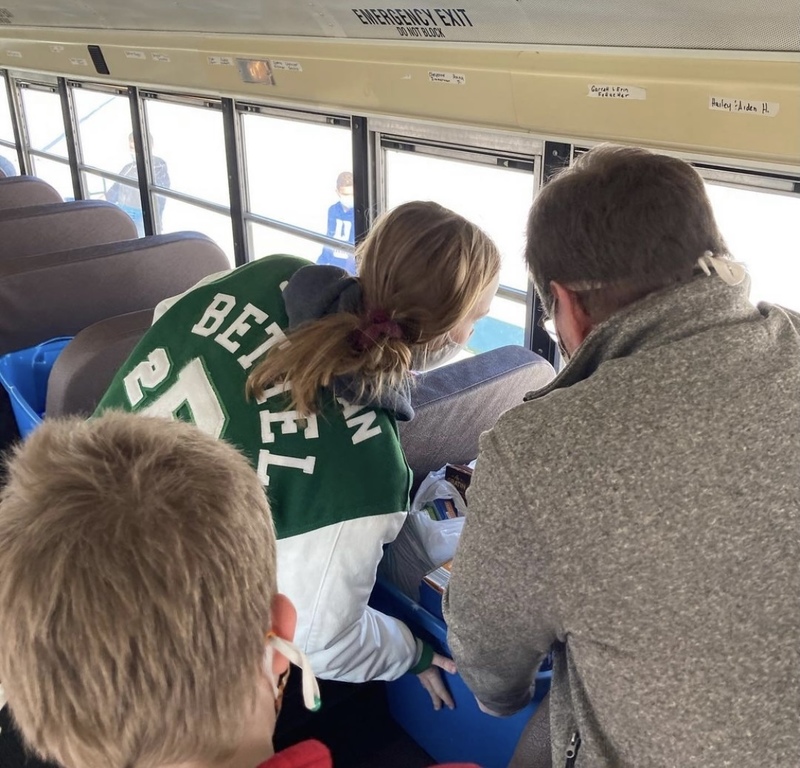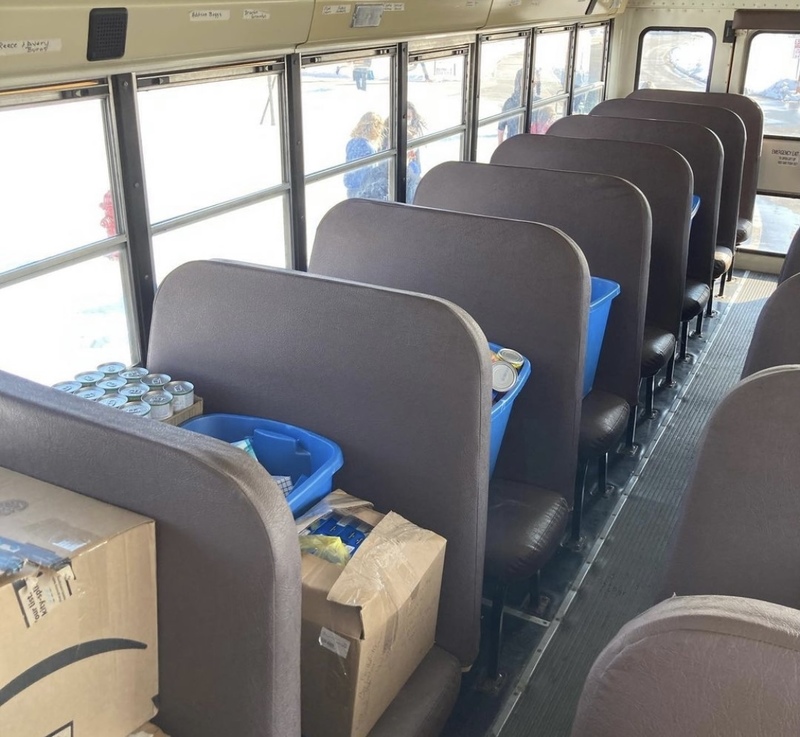 Elementary families were encouraged to drop their donations off at Bethel Hope so the children could participate and see Elementary Principals, Mrs. Roll and Ms. Petty (dressed as the Bethel Bee) and get a quick photo together.
One volunteer said that "It was a steady stream of cars for the full 2 hours - very impressive!"
After the event Dan of Bethel Hope sent a message to be shared with Bethel. "Thank you to Bethel Schools and all the Bethel Township community for being so generous and supportive of the food drive. We are grateful to be able to serve those that need it even more during these difficult times."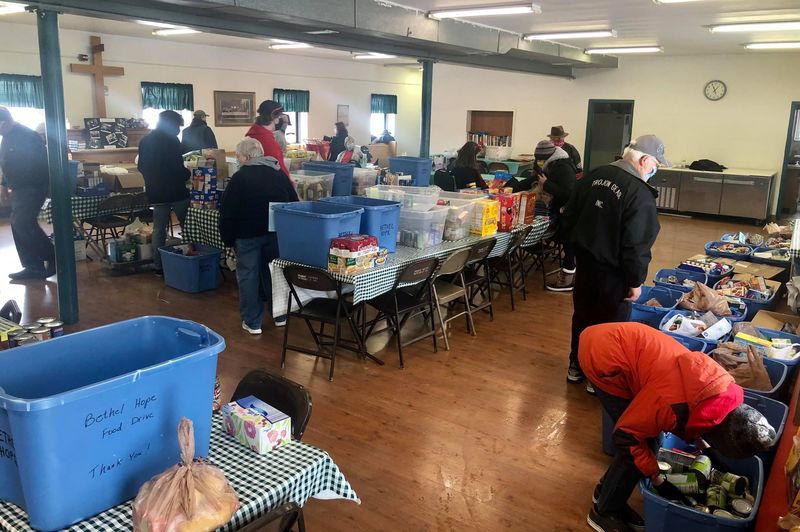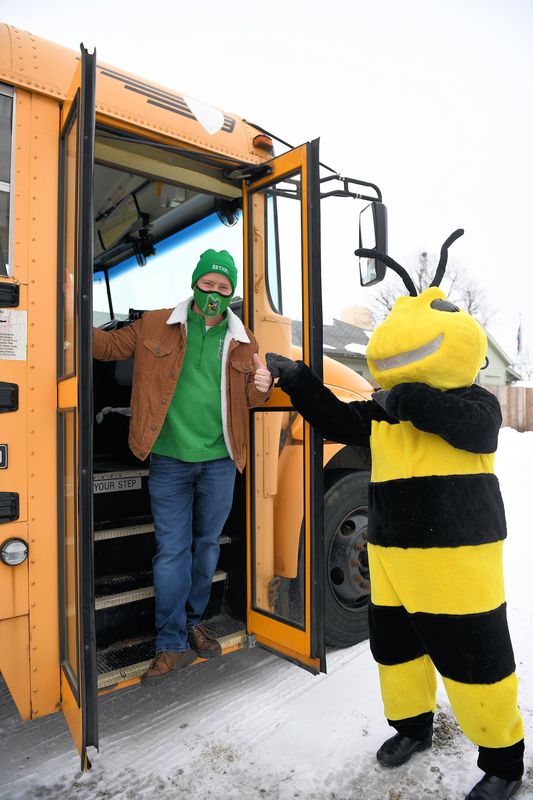 The drive through food drive food drive was created with safety in mind as social distancing guidelines were followed by the participants and volunteers. COVID might have limited the number of people who can be in one place at one time, but it cannot limit the number of people willing to come together in spirit to help others.
Thank you to all who participated-- every donation and volunteer made a significant impact. You are a helper and we appreciate you.
If you would like more information on Bethel Hope or would like to make a financial contribution, CLICK HERE to visit their website.