Caleb South to be Named Next Girls Basketball
Coach at Bethel

Pending approval by the Bethel Local Schools Board of Education, the Athletic Department will name Caleb South as the next Head Girls Basketball coach at Bethel! South is a 2018 graduate of Bethel High School and was a standout basketball and football player for the Bees. Most recently, he was an assistant coach at Tri-Village High School for the 2020 Division IV Regional Runner-up Patriots where he was in charge of player development.
When asked what coming back to his alma mater meant to him, he stated, "I am humbled to be named the Head Girls Basketball Coach at Bethel High School. As a kid I dreamed of bringing my hometown glory, I wanted to make every person in Bethel proud." He credits his success as a player and person to the support of his family, friends and his faith, "First and foremost, nothing would be possible without my Lord and Savior, Jesus Christ. To God be the glory."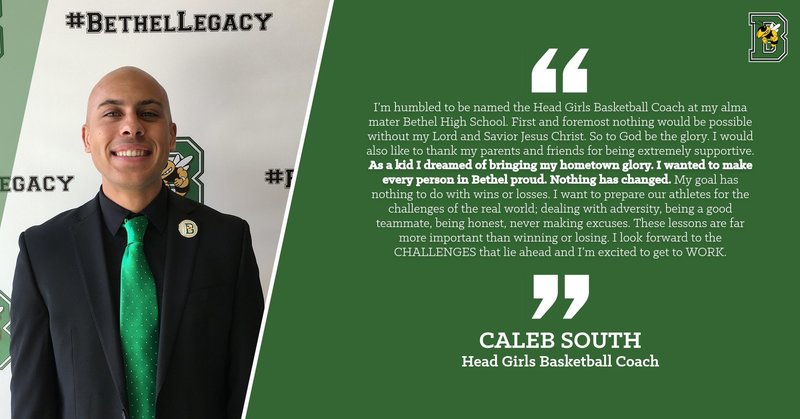 Since graduating from high school, Coach South has exploded onto the scene as a highly sought after and successful trainer as the founder and CEO of CPS Training. His experiences in training some of the top high school basketball players and teams in the area have prepared him a great deal to take on the challenges of being a head coach while keeping the ultimate goal in mind, stating, "My goals have not changed. Hometown glory. But my goals have nothing to do with wins and losses. I want to prepare our athletes for the challenges of the real world; dealing with adversity, being a good teammate, being honest, and never making excuses. These lessons are far more important than winning and losing."
Bethel is excited to have such a passionate, disciplined, and driven coach at the helm. Bethel Athletic Director Damon Smith said of Caleb joining the coaching staff, "During the interview process, it was clear to the committee that Coach South is committed to his craft and education-based athletics. His standards of performance as both a player and a coach as well as his passion for using basketball as a vehicle for developing quality, hard working student-athletes that are prepared for life after high school was a defining characteristic in choosing him for the position. He will have just as significant an impact on our department as a coach as he did for our programs as an athlete."
Coach South is eager to get started with the program stating, "I look forward to the CHALLENGES that lie ahead and I am excited to get to WORK!"

Please help us welcome back to The Hive, Head Girls Basketball Coach, Caleb South!
#BethelLegacy #OneBethel