Covid-19 CDC Guidance: - Stay home for 5 days, from the positive COVID-19 test. - If you have no symptoms or your symptoms are resolving after 5 days, you can leave your house.* - Continue to wear a mask around others for 5 additional days. *If you have a fever, continue to stay home until your fever resolves. Bethel Local Schools recommends following CDC guidance but is NOT mandating a 5 day quarantine. We ask that you stay home for 24 hours after the last fever (without using fever reducing medications), diarrhea, vomiting, persistent coughing, aching, or other active symptoms. The attendance policy has changed this year per our attendance officer. A picture of an at home positive Covid-19 test will no longer be accepted as a medical excuse for absences from school. A doctor's note will be required for a medical excuse. Please notify your physician if you receive a positive at home Covid-19 test for their recommendation on your return to school/work. The full CDC COVID-19 Guidance can be found through this link:
https://www.cdc.gov/media/releases/2021/s1227-isolation-quarantine-guidance.html
#BethelLegacy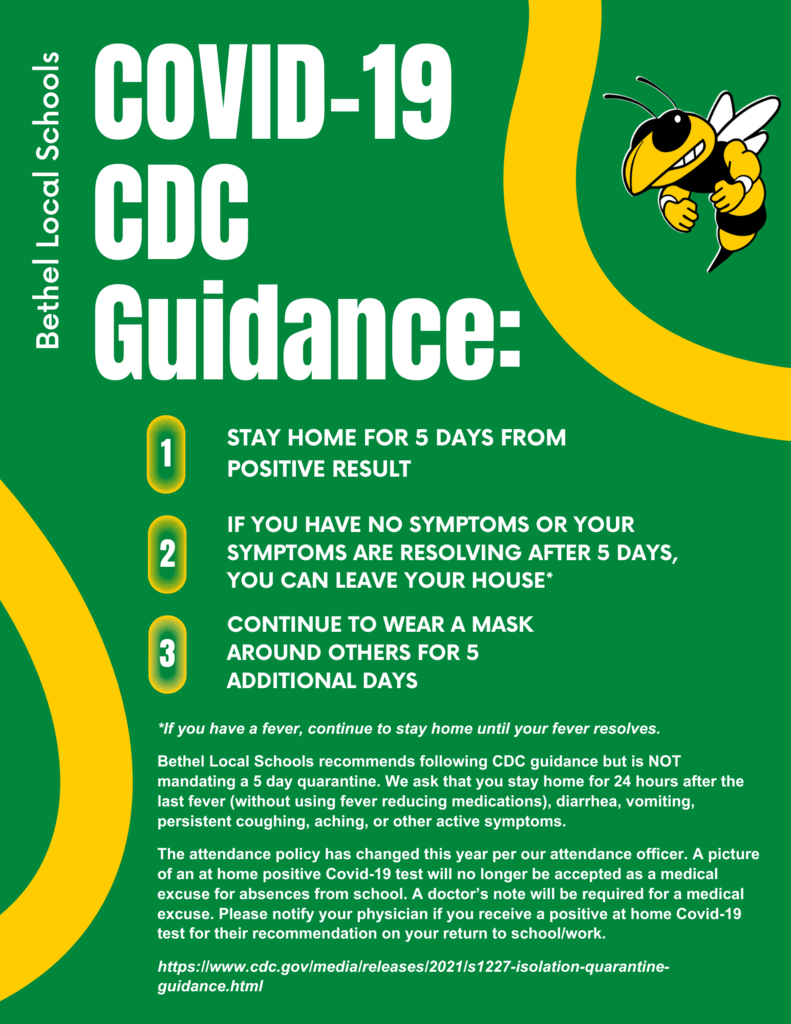 Elementary Drop-Off & Pick-Up Information! Drop-off and Pick-up will be in the front of the Elementary Building. The line will start as two lanes and will merge into 1 lane prior to the Drop-Off/Pick-Up (DOPU) area. The lane closest to the sidewalk (right) will be used for DOPU, and the other lane will be for vehicles exiting after DOPU. Student Drop-Off will begin at 8:30am, and the tardy bell rings at 8:45. Students may not be dropped off early, as there will not be supervision prior to 8:30am. Upon exiting their vehicle, K-2 students will enter the building through door A2 and 3-5 students will enter through door A4. Student Pick-Up will begin at 3:30. Parents will need a DOPU tag. If you have not obtained a tag yet, please fill out the following form and return it to the Elementary office as soon as possible:
https://5il.co/22kaf
Additionally, parents may not park in the parking lot and walk their child over during arrival or dismissal times. Please see the attached image for a diagram of the DOPU traffic flow. #BethelLegacy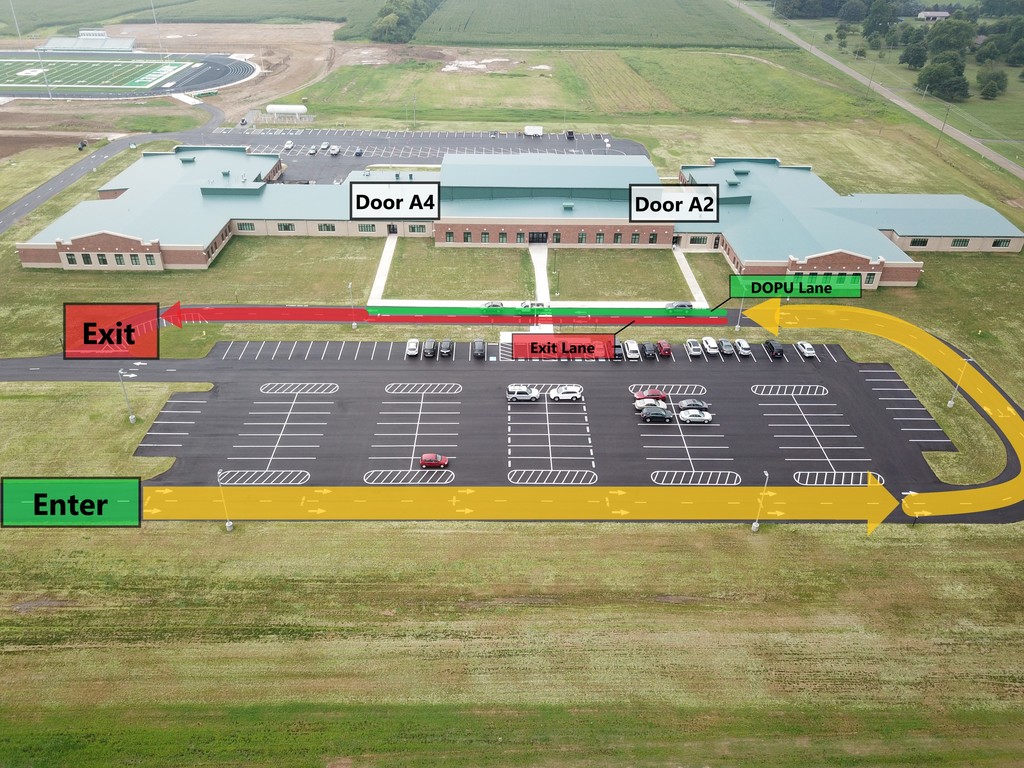 Elementary Bus Routes! With the Bethel Elementary School year set to start tomorrow, September 5th, make sure to double check you bus route! The most up-to-date bus routes can be found here:
https://5il.co/1fv4f
#BethelLegacy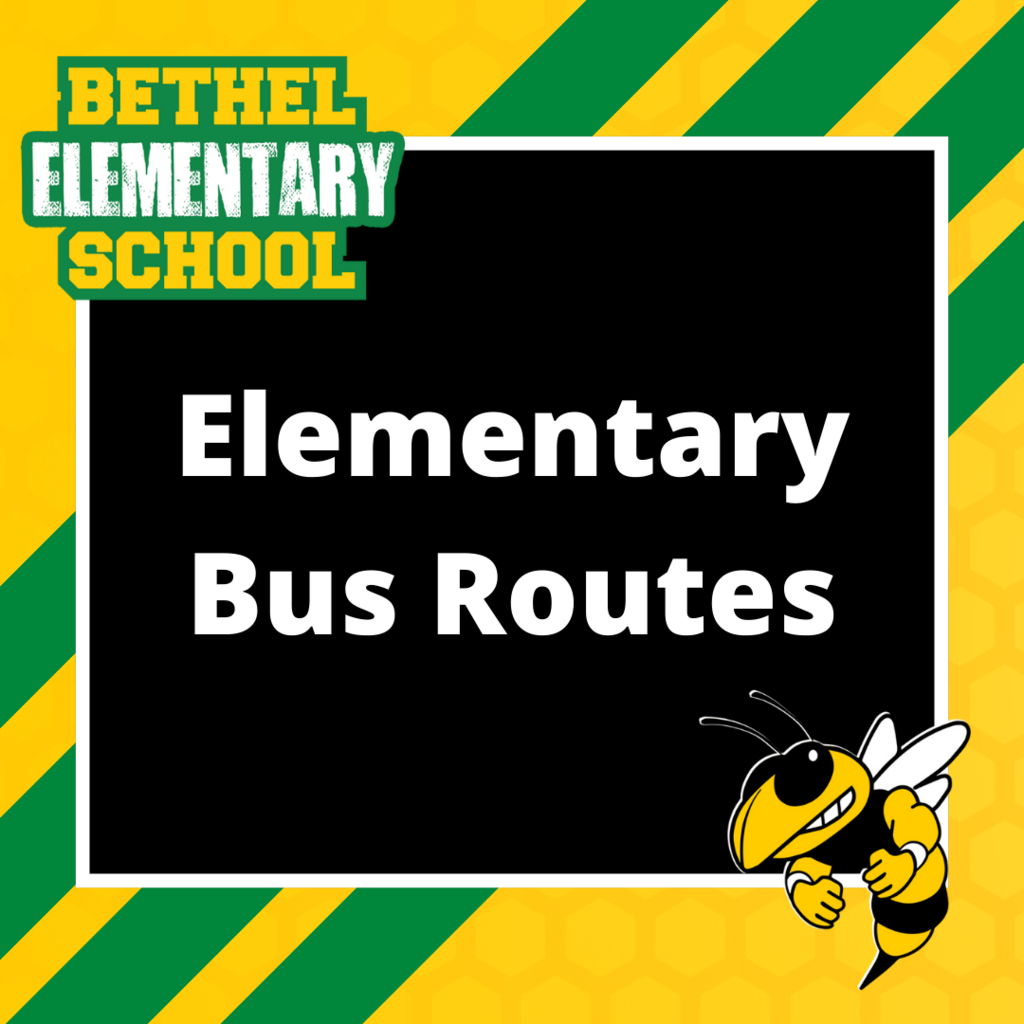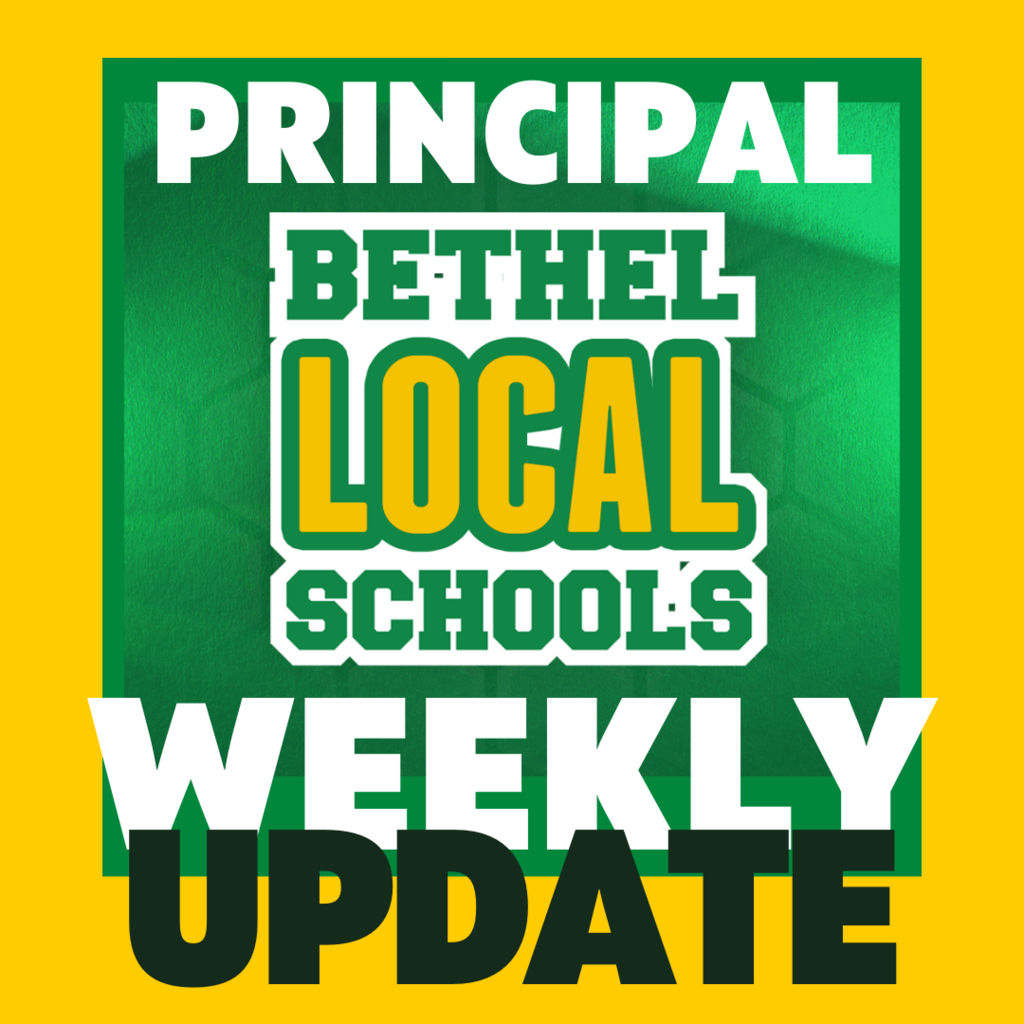 Please refrain from parking on the grass during tonight's Open House at Bethel Elementary School. The grass needs time to fully grow and settle. See you tonight, August 31st, from 4pm-6:30pm for the Kindergarten and 1st Grade Open House! #BethelLegacy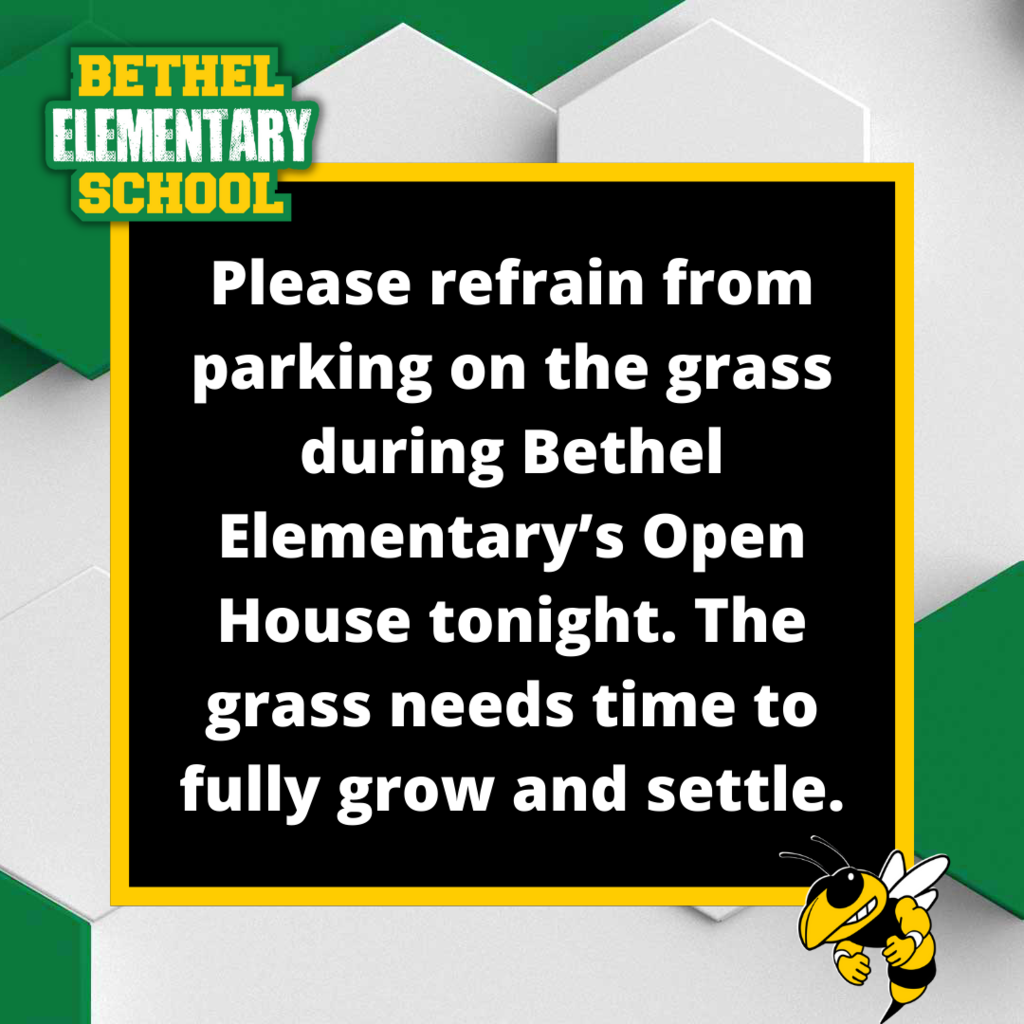 MVCTC Students: Starting tomorrow, August 31st, the CTC Buses will load in the front of the building. The bus will be staged in front of the guidance office. The Junior bus will load first, and upon it's departure, the Senior bus will pull up and begin loading. #BethelLegacy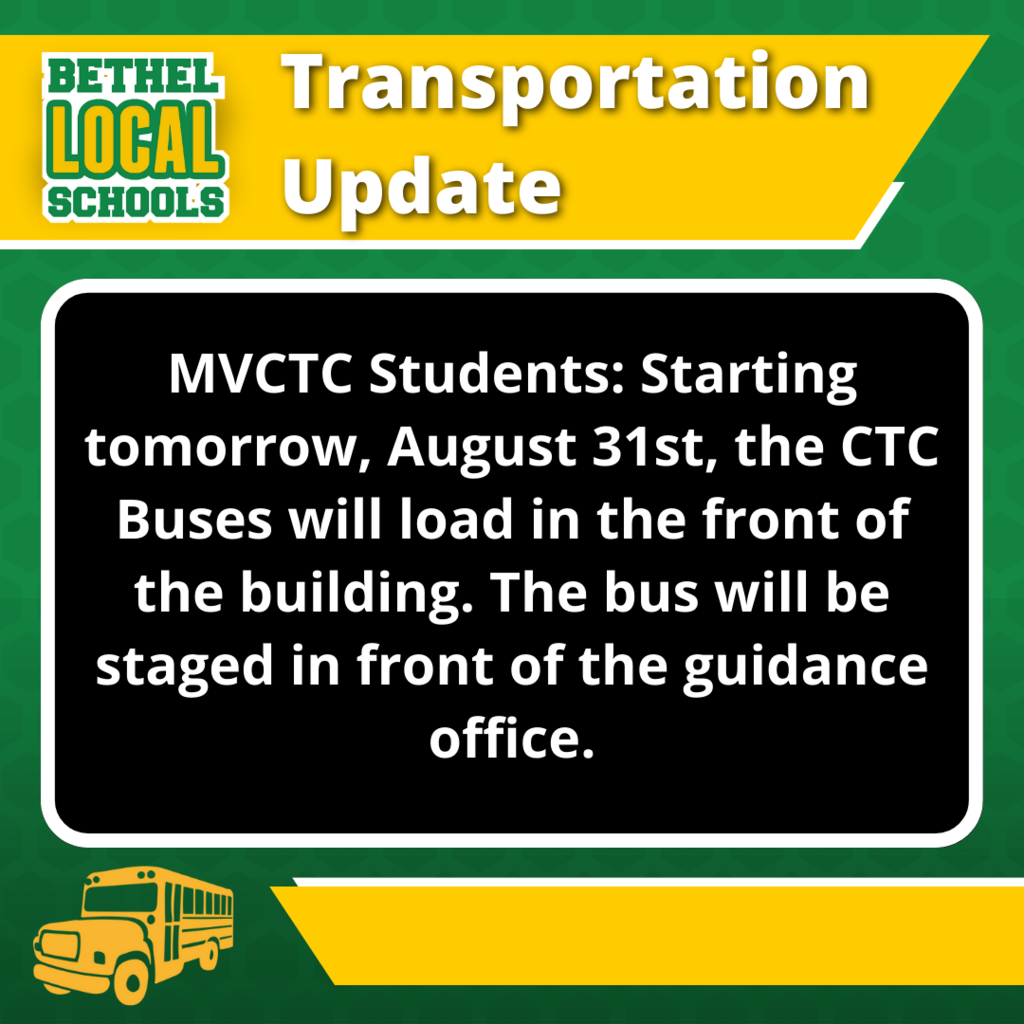 Kindergarten & Young 5's Parents: There will be meetings for parents of Kindergarten and Young 5's students at 4:30pm on Thursday, August 31st. The Young 5's meeting will be held in the Elementary Library, and the Kindergarten meeting will be in the Cafeteria. #BethelLegacy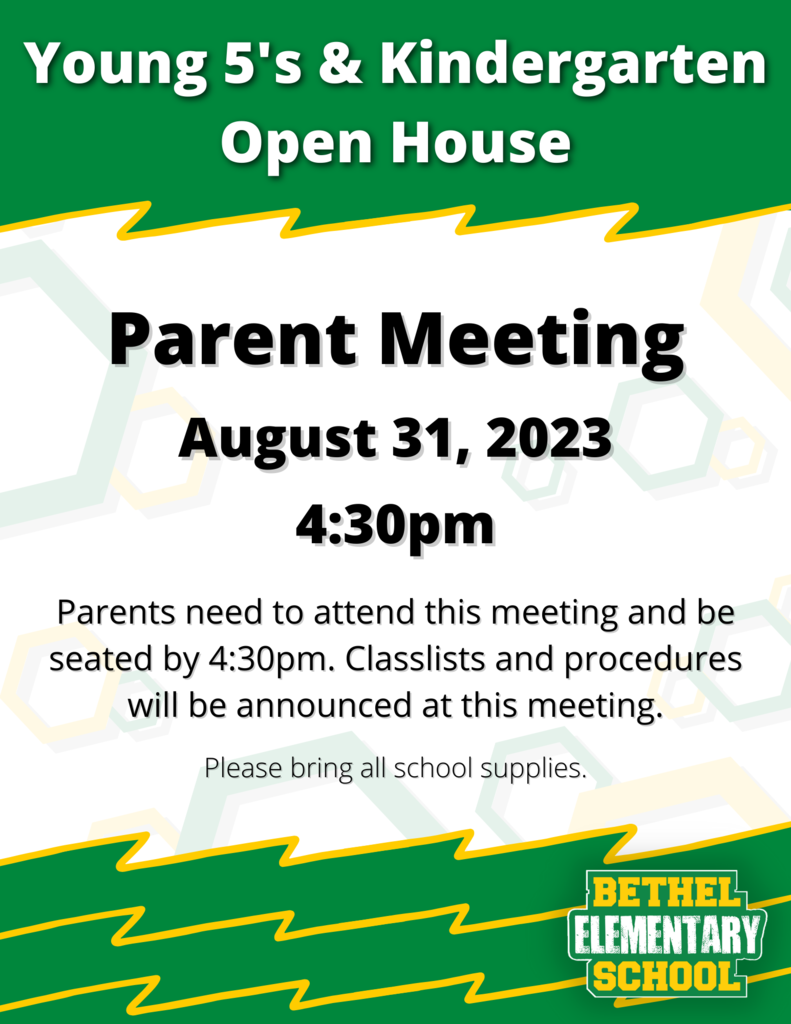 What a great first Open House for our elementary students! Thank you to all of the community organizations that came to provide information to our families. Reminder: Thursday night will be our Young 5's, K and 1st grade Open House from 4-6:30p.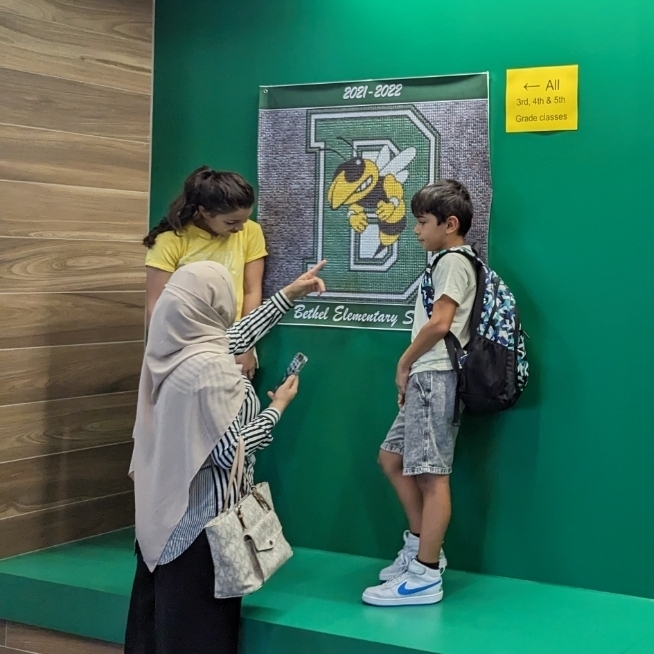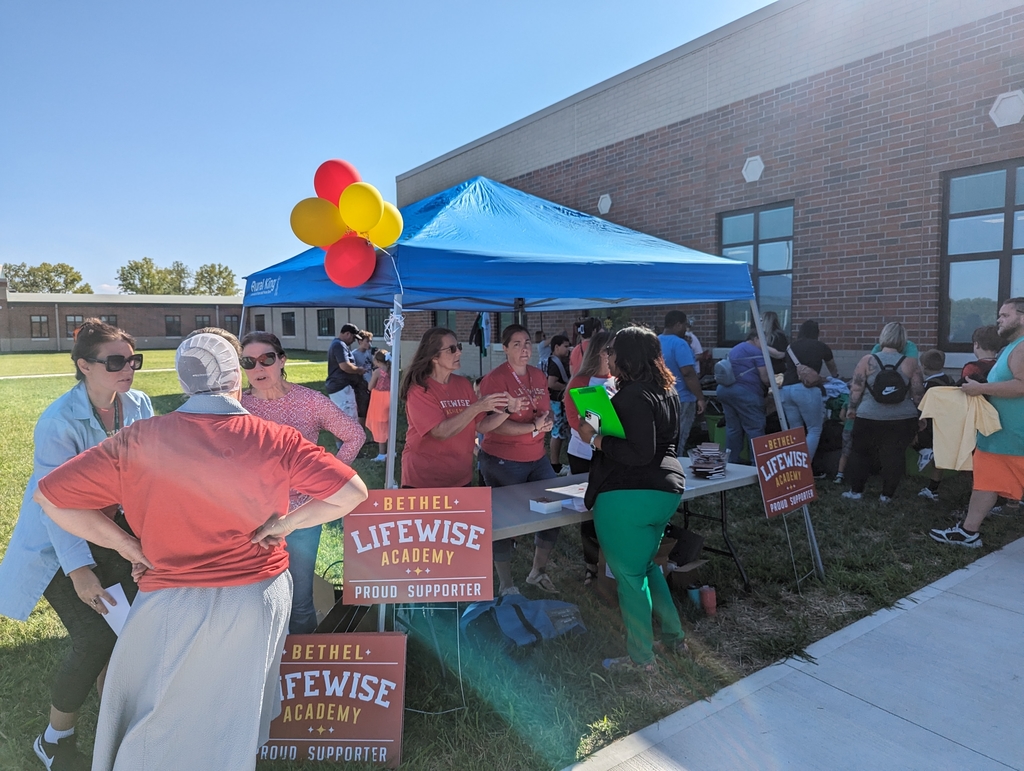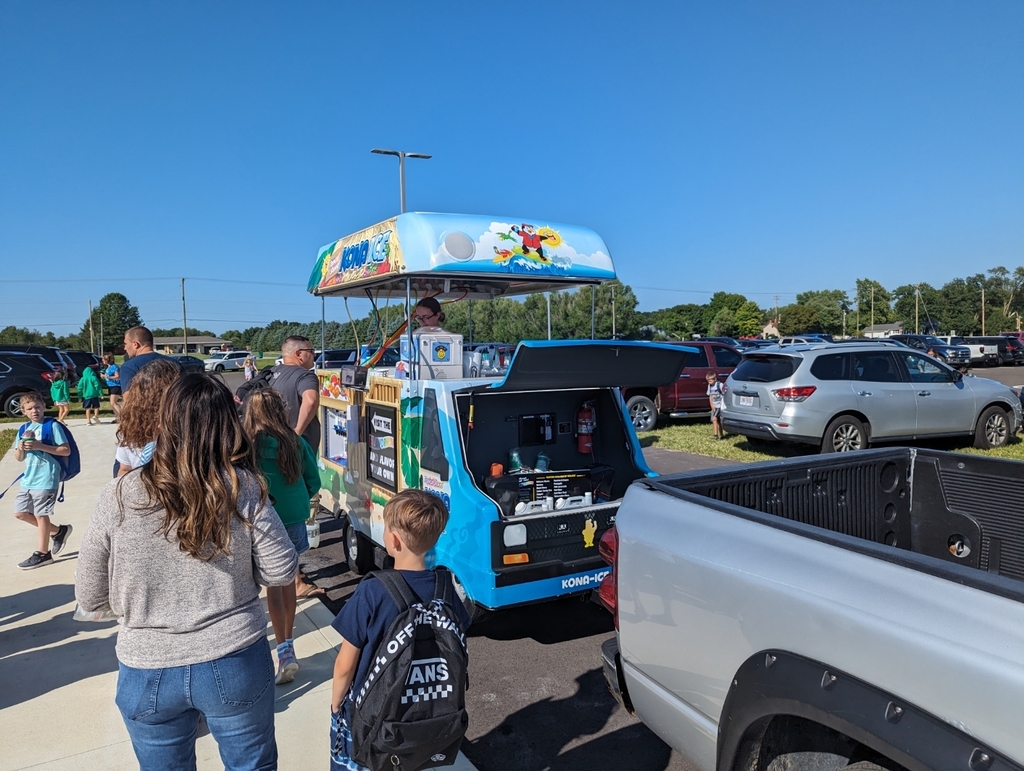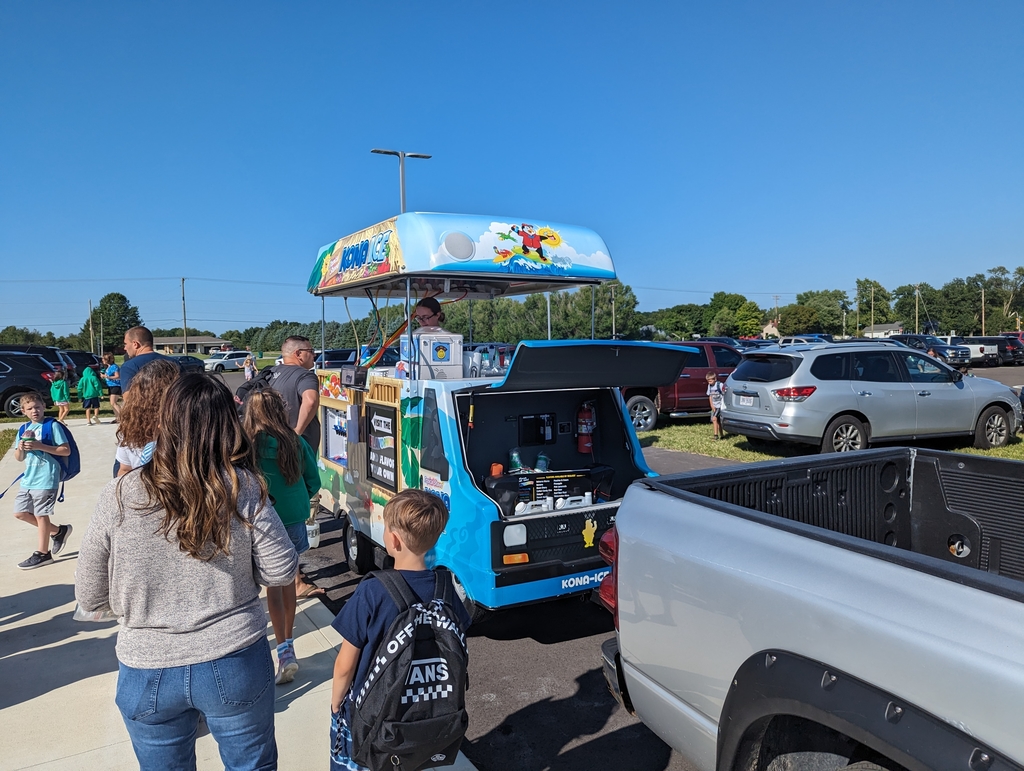 Reminder! Open House for students in 2nd through 5th grade is tonight, August 28th, from 4pm-6:30pm! Open house for Kindergarten and 1st-grade students will be Thursday, August 31st, from 4pm-6:30pm. Additionally, there will be a meeting for parents of our Young 5's and Kindergarten students at 4:30pm on Thursday, August 31st. #BethelLegacy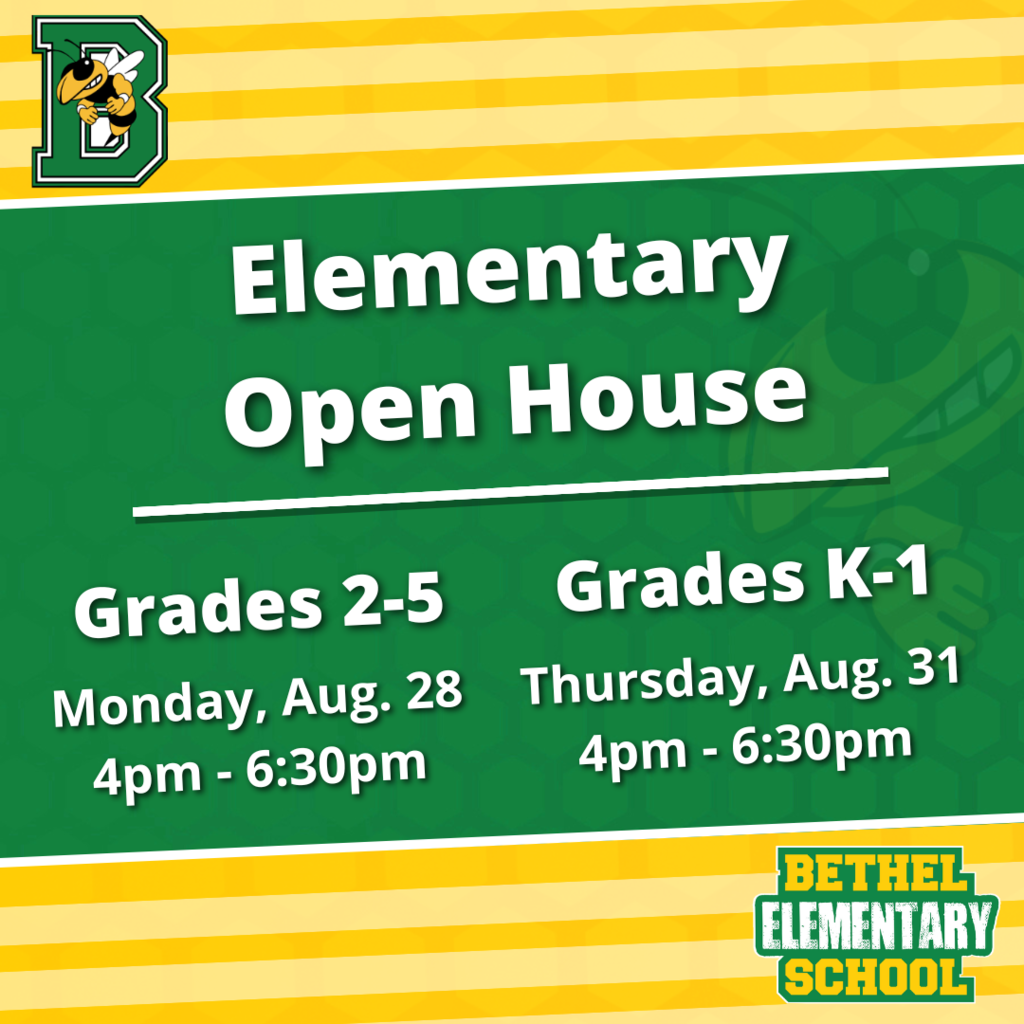 MVCTC Students: Buses will run from Bethel to the Miami Valley Career Technology Center on Monday, August 28th. Buses will depart from Bethel at 7:25am and will return at approximately 3:00pm. Students will be responsible for their transportation to Bethel and home from Bethel. #BethelLegacy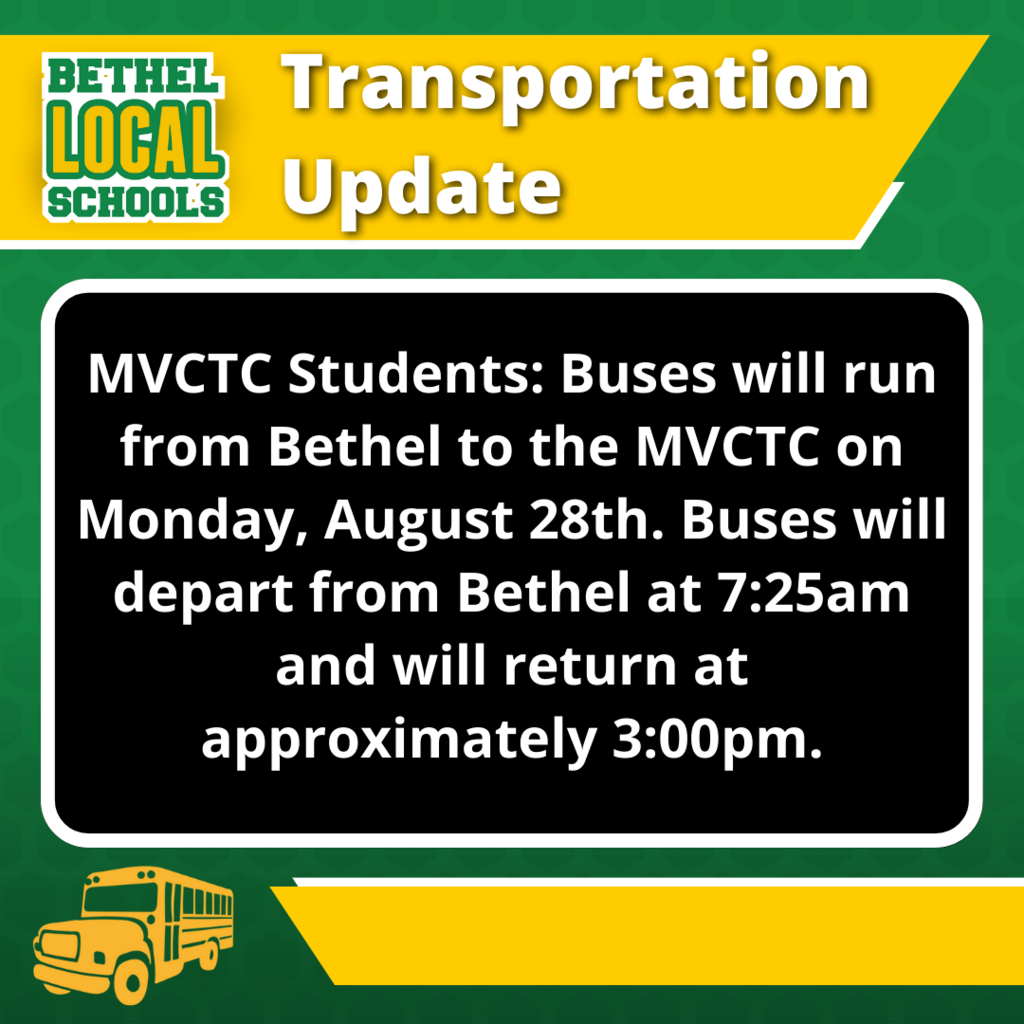 Here are the first of many weekly updates for the 2023-2024 school year from your HS and MS principals. Have a great weekend! #BethelLegacy #OneBethel MS:
https://5il.co/236zy
HS:
https://5il.co/23704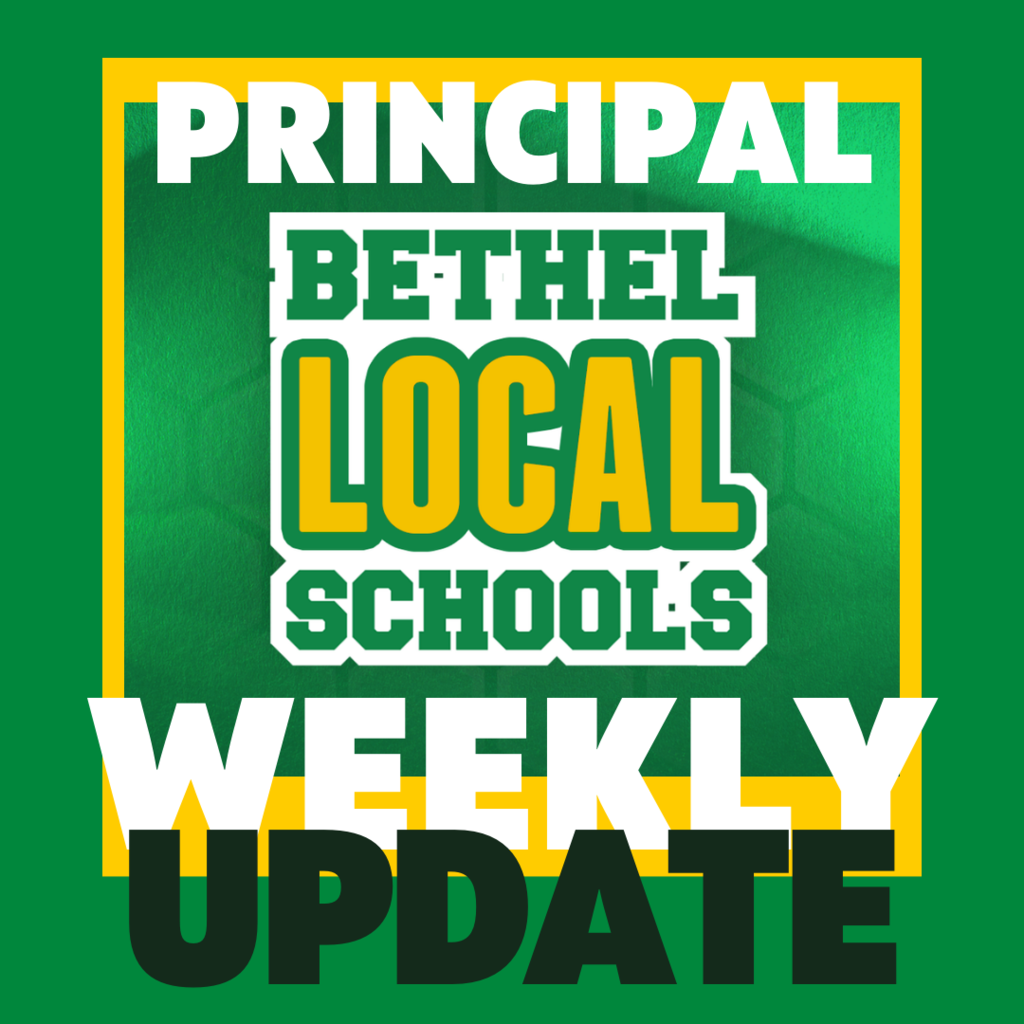 ​Bethel Families, Bethel Local Schools will be closed on Monday, August 28th. For the full details and reasoning, please see this letter from Superintendent Chrispin:
https://5il.co/238ip
#BethelLegacy #WarriorStrong

🚨SCHEDULE UPDATE🚨 8/24 | Due to extreme heat and out of an abundance of caution for outdoor activities: ⚽️Boys and Girls Soccer games - POSTPONED 🏈 HS Football practice - HS GYM 🏃🏽 XC Practice - INSIDE ONLY 🏈JH Football practice - CANCELLED 🏌️🏽Golf Practice - CANCELLED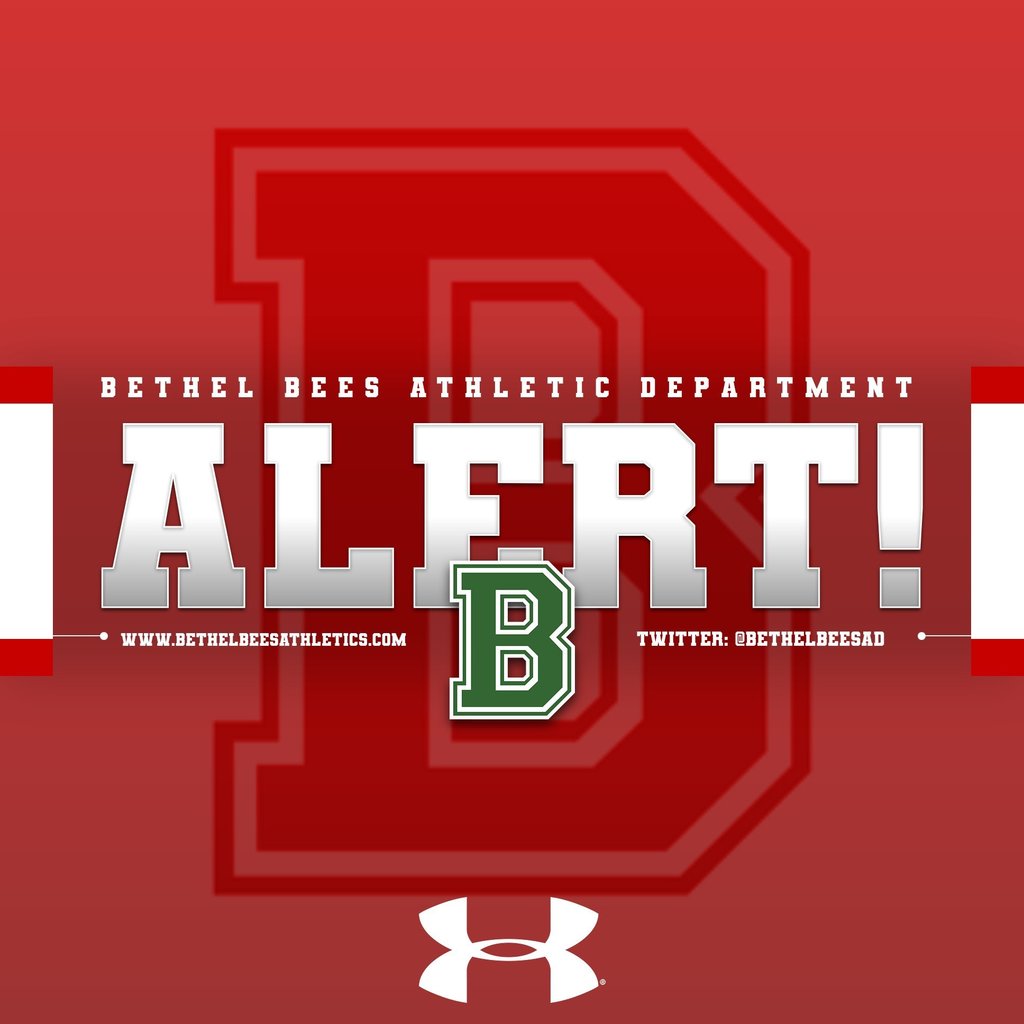 Elementary Parents: You should have received an email by today, Wednesday, August 23rd, with information from FinalForms that will include your child's teacher for the 2023-2024 school year. If you haven't received an email, please make sure you have completed your FinalForms registration for the 2023-2024 school year. If you still do not see your child's classroom assignment on Finalforms, please contact the Elementary Office, at (937) 845-9439, for further assistance. #BethelLegacy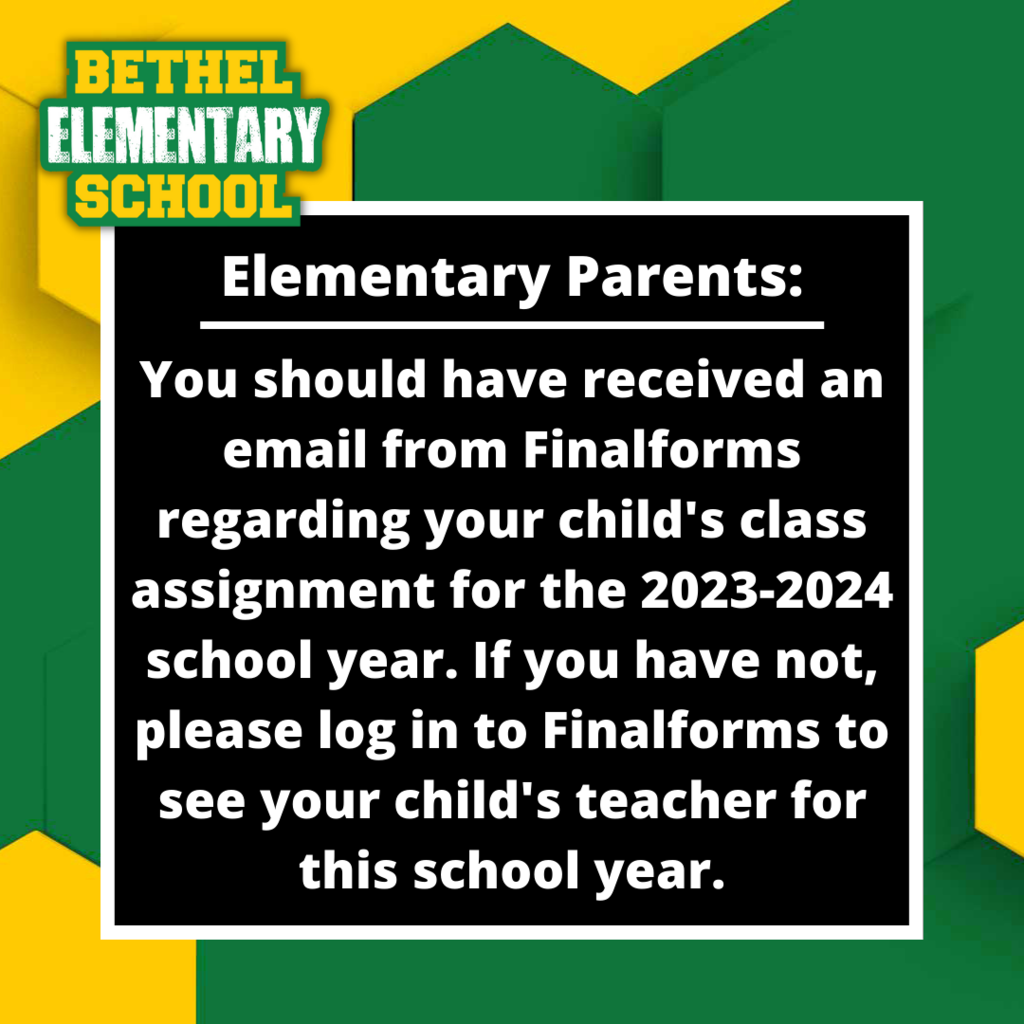 Transportation Update! Bus Routes #9, #23, and #19 will be on doubled-up routes for the High School and Elementary. The Pick up times for these routes will run from approximately 7:00am-7:25am for high school and middle school and 8:10am-8:40am for elementary. The routes will also be delayed in the afternoon, with the elementary routes being dropped off between 4:15pm and 4:45pm. Thank you for your patience and understanding. The HS/MS bus routes can be found here:
https://5il.co/1fv4e
The Elementary bus routes can be found here:
https://5il.co/1fv4f
#BethelLegacy

Reminder! Tomorrow, August 23rd is the first day of school for our high school and middle school students. All elementary students will then have their first day of school on Tuesday, September 5th! #BethelLegacy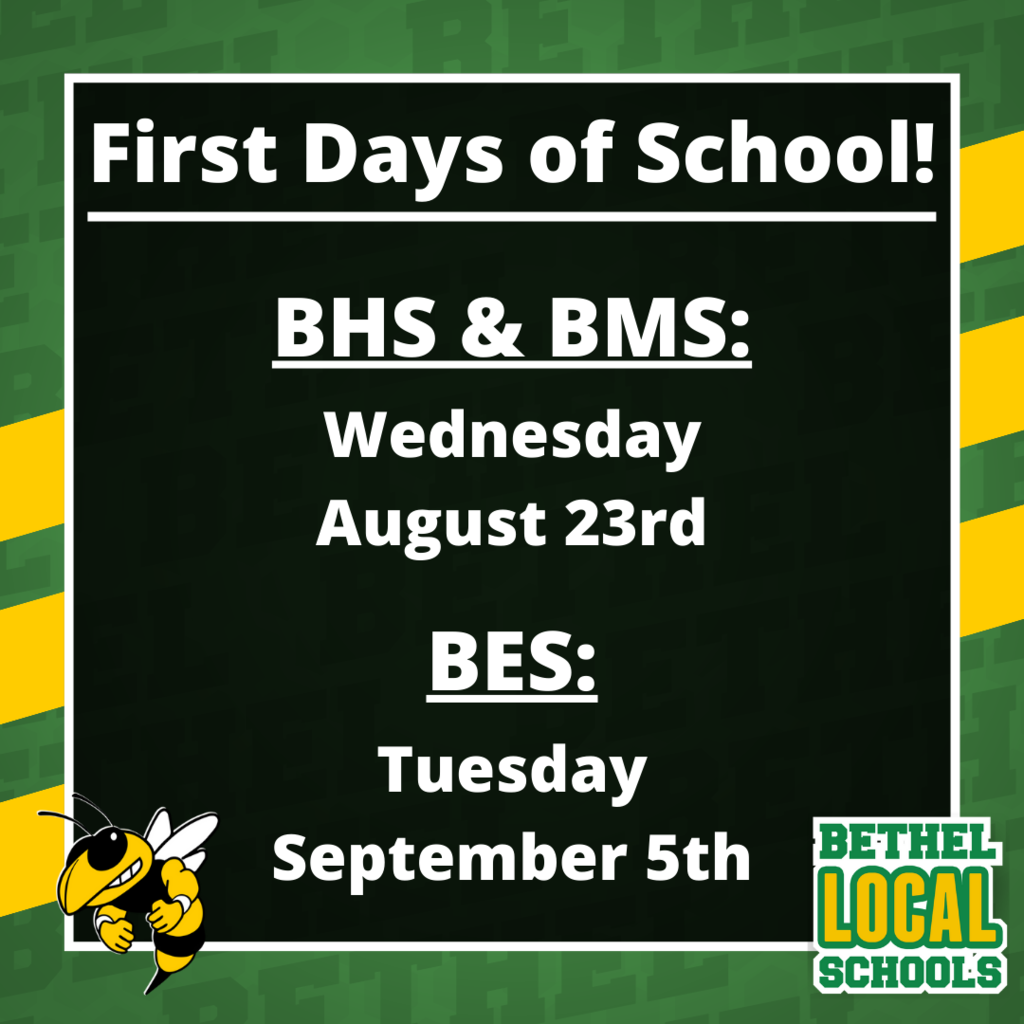 HS & MS Bus Route and Drop-Off/Pick-Up Information: Bus routes for High School and Middle School can be found here:
https://5il.co/1fv4e
Please be sure to check back to these routes over the next couple of weeks as we establish bus routes and make adjustments as needed. Starting this year, student Drop-Off and Pick-Up will be in the back of the school building. During this time, traffic must enter through the North entrance (boulder), drop off or pick up students at the Hive entrance, and continue to the South exit. Traffic must then turn right when exiting the school onto State Route 201 during the designated times. Student drop-off will take place between 7:15am and 7:40am, and student pick-up will be held between 2:30pm and 2:55pm. Additionally, starting this year vehicles used for student drop-off and pick-up must have a DOPU (Drop-off/Pick-up) tag. To obtain this tag, please fill out the DOPU form, available in each building's main office or here:
https://5il.co/22kaf
, and return them to your building office and a DOPU tag will be issued accordingly. Student parking passes are available here:
https://5il.co/21svz
. Currently licensed students can fill out this form and return it to the High School Office, where their parking pass will be issued. Students have until Friday, August 25th to obtain their parking pass. Please see the attached map of this year's traffic flow for the High School and Middle School. A larger version is also available on the Back-To-School Page:
https://www.bethelk12.org/page/back-to-school
#BethelLegacy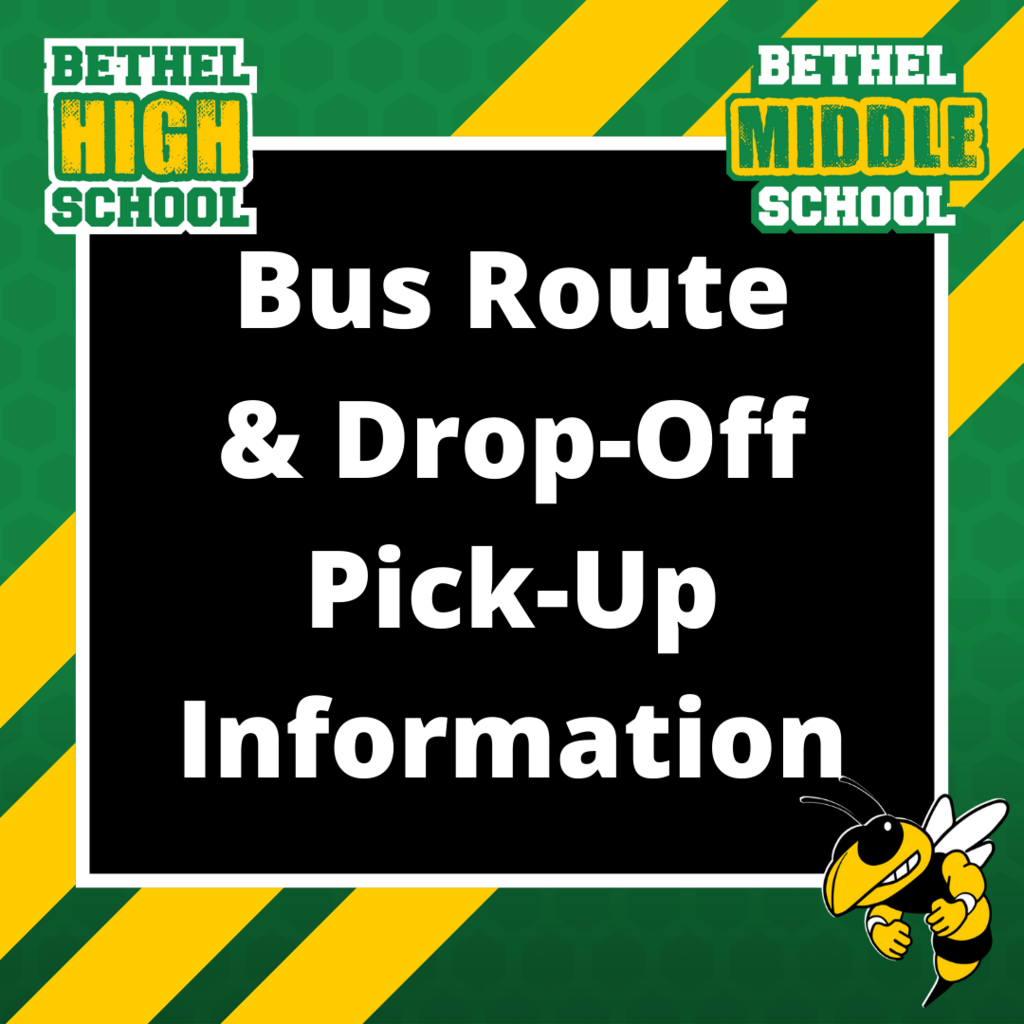 Make sure to join us for Bethel Elementary School's Open Houses! Open house for students in 2nd through 5th grade will be Monday, August 28th, from 4pm-6:30pm, and open house for Kindergarten and 1st-grade students will be Thursday, August 31st, from 4pm-6:30pm. Also be on the lookout for an email this Wednesday, August 23rd, with information from FinalForms that will include your child's teacher for the 2023-2024 school year. You'll want to make sure to check this ahead of Open House. If you don't receive an email on the 23rd, please make sure you have completed your FinalForms registration for the 2023-2024 school year. If you still do not see your child's classroom assignment, please contact the Elementary Office for further assistance! #BethelLegacy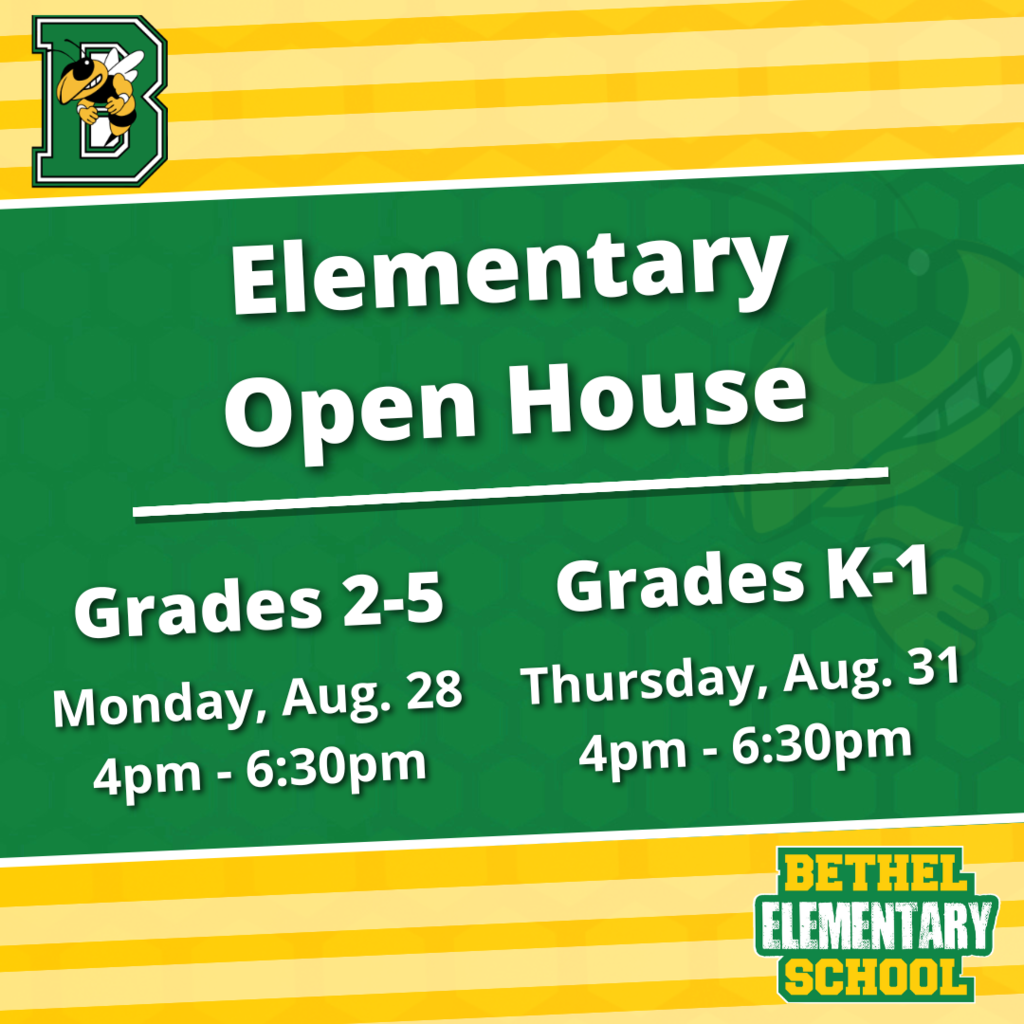 Kona Ice will be joining us for Bethel Middle School's Open House tonight, August 21st, from 3:45pm-6:00pm! Kona will be located in front of the Middle School, and proceeds will go to the Bethel Middle School Positive Behavior Interventions and Supports program (PBIS) for the upcoming school year. The Bethel Middle School PBIS 'Swarm' would greatly appreciate your support so we may provide positive rewards and incentives for all students this year. This will be our SWARM kickoff event and will continue throughout the year. Hope to see you there! #BethelLegacy

Today marks the beginning of a new chapter for the Bethel Local School District, as our brand new Bethel Elementary School is officially open! As we continue our mission to Educate with excellence we can not wait to see what becomes of our #BethelLegacy